I
was never one of those girls that was lucky enough to have regular nail
polish lasts on their nails for more than 3 days. As far as I am
concerned, any nail
polish that survived 3 full days looking representable (minus a few
chips) – is
a durable nail polish. I really did try
everything: buffing the nails, alcohol drying, any base, and any top
coat and
nothing. Even gel nail polish will last about a week on me (in the best
case
scenario). Worst case, the polish will crack and lift from my nails,
leaving me looking
somewhat grunge – a look that may have worked when I was 16, but not
these days. Working on an airplane does not help either, as I am
expected to have polished nails, but also to serve food, clean and
sometimes even be a mechanic if needed.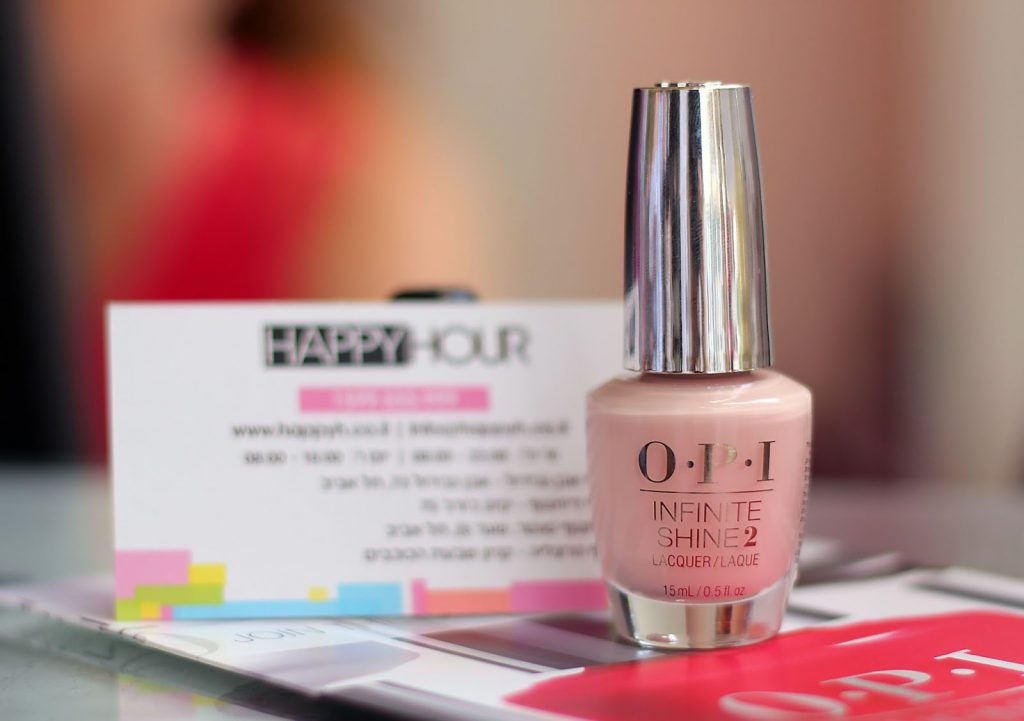 OPI Infinite Shine,
which was recently launched in a new formula, is a nail polish that aims
to be
durable, for those who are seeking longevity without the commitment of
gel nail polish. The company showcases it as a regular nail polish with
high
durability (up to 10 days) and a glossy finish. The nail polish includes
3
steps in order to achieve the final result: primer, color, and a glossy
top. In
my first trial, I had a professional manicure-lady apply the color Staying Natural On This One* the day I
flew to Hong Kong. The outcome was nice and people even asked me if
this was gel nail polish because of the glossy finish. Durability wise – the nail polish didn't last much
longer than any other nail polish, and started chipping after 3 days. I did
feel like I really tested it though – 10 hours flight and some time spent in
a pool and a Jacuzzi. As a result, I decided to test it again.
The next time, I applied it by myself at home. I started
by putting on the see-through primer base. After drying, I used the first layer
of my chosen tone. The first layer was uneven, a known phenomenon when it comes
to light nail polishes such as this. The second layer sealed the look, but in
some fingernails, you could still see some lack of evenness (but still not
something I would add a third layer). I waited for about 5 minutes and then
put on the top coat. After 3 days (Friday, today) and after a
10 hours flight (Hello New York City!), a few chips appeared, but in general,
the nail polish remained shiny and complete. Personally, I praise a nail polish
that lasts a flight in an elegant way, but I doubt it if it will last for more
than 4-5 days. My personal tip:
before you purchase the product, try a manicure with all of these products, so
you could then determined if this is durable enough for you. 89 NIS per bottle
(primer/tone/top), in selected stores.
Update: Eventually I had more chips appear on the third day
and I ended up removing it.